As said last week, our goal is to become one of the new creators for our target audience in the Tiktok. This week we'll share 9 tips for using the TikTok algorithm.
1. Switch to your TikTok Pro account
TikTok offers two types of Pro accounts, depending on whether you're a creator or a business. Having a Pro account by itself won't help get your videos on the For You page, but switching to one is still an important part of mastering the TikTok algorithm.
That's because a creator or business account gives you access to creation metrics and data insights that can help guide your TikTok strategy. Understanding who your audience is, when they're active on TikTok, and what kind of content they like is critical if you want to create content they'll enjoy and engage with.
Here's how to convert to a TikTok business account.
On your profile page, tap the three dot icon in the upper right corner of the screen.
Tap Manage account.
Select Switch to Business Account and choose the best category for your business.
2. Find your content creation area
Finding existing communities to engage with on all social platforms is a very important step. The TikTok algorithm makes it an even more important step.
This is because unlike other social networks where people spend most of their time following the accounts they already follow, TikToker spends most of its time on the For You page.
If you can leverage existing content creation areas, you're more likely to be amplified to the right audience. Fortunately, TikTok content creation is clustered in hashtags (more on that later).
Knowing your most valuable content creation areas can also help you create content that truly connects with TikTokers, leading to increased credibility, brand loyalty, and more exposure.
3. The first few seconds of the video should be enough to catch the eye
Grab attention and show the value of watching in the first few seconds of TikTok.
This statistic comes from TikTok ads, but it's also worth thinking about for your natural content: TikTok videos that open with strong emotion (e.g. surprise) get 1.7x more attention than content that starts with a neutral expression.
4. Write a compelling title
TikTok titles support no more than 150 characters, including hashtags. A great title tells users why they should watch your video, which increases algorithmic engagement and full video viewability, which affects rankings.
Use your captions to spark curiosity or ask a conversation-starting question in the comments.
5. Produce high quality videos specifically for TikTok
Low-quality content won't make it to the For You page.
You don't need any expensive equipment – in fact, your phone is the best tool for making real videos. TikTok supports videos from 5 seconds to 3 minutes in length, but the best results are 12 to 15 seconds to keep users engaged.
You need to shoot in 9:16 vertical format. Videos shot vertically have a 6-second view rate that is 25% higher than average. This is because they take up more screen space to showcase the content.
Adjust the pace of your video to fit the music. 88% of TikTok users say sound is "essential" on the platform. Playing upbeat tracks at 120 beats per minute or more has higher viewership.
And be sure to use TikTok's built-in features, such as effects and text processing. According to TikTok: "These native features help keep your content feeling native to the platform which can also help get it on more For You pages! "
To get the most out of the TikTok algorithm impact, try the trending effect.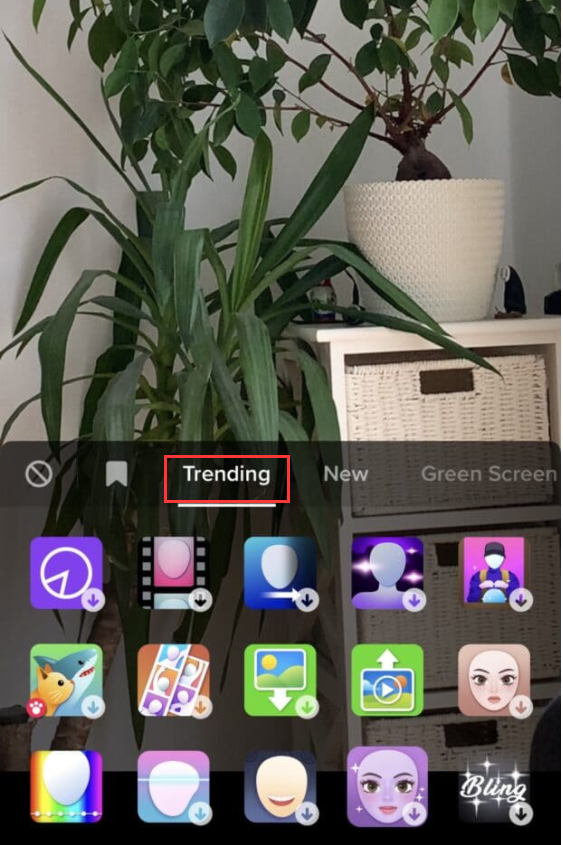 6. Post at the right time
While this is important for all social media platforms, it is especially true for TikTok. Active engagement with your content is a key signal for the algorithm.
To find out when your audience is most active on TikTok, check your business or creator account analytics at
On your profile page, click the three dot icon in the upper right corner of the screen.
Click Business Suite , then Analytics.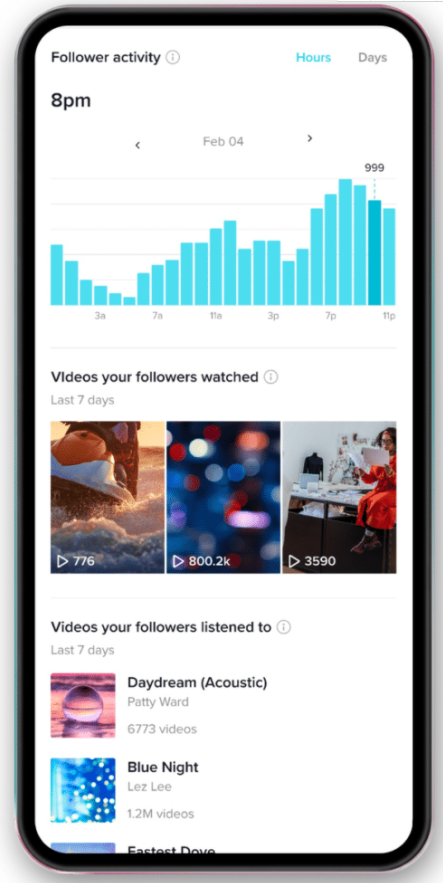 Image source: TikTok
Note: TikTok recommends posting 1-4 times per day.
7. Interact with other TikTok users
21% of TikTokers say they feel more connected to brands that actively respond to comments on others' posts. Replying to comments on your own videos is also key to building engagement signals for the algorithm.
TikTok offers a number of unique ways to interact with other TikTok creators, such as Duets, Stitch and video replies to comments.
Stitch is a tool that allows you to edit moments from other TikToker content and integrate them into your own content.
Duets allows users to record a "duet" with another user by commenting in real time next to the original creator's video.
Video replies to comments allow you to create new video content based on comments or questions on previous posts.
TikTok's default settings allow others to use your content to create Duets and Stitch videos. If you want to change this setting for any particular video, click the three-dot icon on the video to open Privacy Settings and adjust it as needed.
You can also turn these features off for your entire account, but this will limit the opportunities for other TikTok users to interact with your content, making it less likely to be discovered.
8. Use the correct hashtags
To find trending hashtags, go to the "Discover" tab and click on "Trends" at the top of the screen.
Be sure to keep an eye out for hashtags related to challenges. Hashtag challenges are a great way to come up with new ideas for content while sending some good trending resonance to the algorithm.
Please note: 61% of TikTok users say they prefer brands when they create or participate in TikTok trends.
You can also search for trending hashtags by region in the TikTok Creative Center . If you're looking for inspiration, you can also view the top TikToks by region over the past 7 or 30 days.
9. Use popular sounds and music
Two-thirds ( 67% ) of TikTokers say they prefer branded videos that feature popular or trending songs. And, as we've already said, it's a good idea to engage with any type of trend when targeting For You pages.
So, how do you find out what songs and sounds are popular?
On the TikTok home screen, click the + icon at the bottom and then click the Record Video page on Sounds . You'll see a list of the most popular sounds.
To find out which sounds are popular among your specific audience, you need to look at TikTok Analytics. You can find this data in the Follower tab .